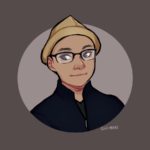 As an instructional designer, my main goals are to help organizations turn their training resources into engaging educational content, to create open educational resources for use by a wide variety of educators, and to work on projects where I can utilize my content creation skills. Over the past few years, I've become very interested in helping educators and organizations adjust their offline training programs into educational content and methods that work online.
Beyond those goals, I'm very interested in the Universal Design for Learning (UDL) framework since it helps educators and designers create content that's accessible and understandable to learners with differing abilities and from different backgrounds. In our increasingly online world, it's possible for information to be encountered by people in different countries, speaking other languages, and with varying levels of skills and education. The UDL framework provides guidelines for creating educational opportunities for everyone.
With an eye on the future, I'm intrigued by the instructional possibilities offered by virtual worlds such as Second Life or the OpenSimulator communities. Virtual worlds let learners and educators engage in content in new ways, but barriers exist, mainly in the form of the digital divides and digital literacy. I'm hopeful these barriers for participation will disappear in the future as technology improves and costs become affordable to all.
Contact
Please feel free to view my LinkedIn profile. If you would like to contact me directly please send an email to portfolio@gottahavacuppamocha.com.
Education
Indiana University
Master of Science in Education in Instructional Systems Technology
May 2023
Indiana University
Certificate in Teaching English to Speakers of Other Languages
May 2010
Colorado State University
Bachelor of Applied Science in Apparel and Merchandising
December 1999